Blog
Cerakote Coating and Your Saiga
09/01/2012
Gun coatings can offer your firearm corrosion and abrasion resistance as well as a long-lasting finish. Cerakote firearms coatings are considered the best and offer higher performance and reliability over traditional finishes. Cerakote offers a wear rating of 6,000 cycles, compared to only 500 cycles from blueing and about 3,000 from black oxide. Is Cerakote a good option for your Saiga? Here's a more in-depth look at the advantages.
How Your Gun or Saiga Rifle Parts are Processed
First, your Saiga is professionally disassembled, if it isn't already. Any interior parts that shouldn't be coated will be set aside.
Next, all parts are hand degreased and brushed to remove grease deposits and carbon build-up. This necessary step prevents the media from becoming contaminated and ensure the best Cerakote finish.
All Saiga rifle parts to be coated will be stripped using aluminum oxide. This preparation allows the coating to adhere well. The parts must also be handled carefully now to prevent oil transfer from hands.
Now the parts are hand-sprayed with Cerakote using a HVLP gun.
Each piece is now cured.
Once everything cools, it's inspected and then reassembled by a gunsmith.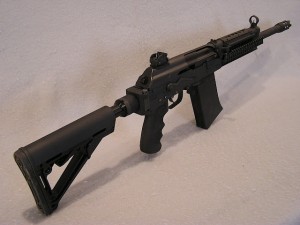 Benefits of Cerakote Coating After you've purchased a Saiga 12 for sale, you probably want to maintain it in proper working condition for some time. Left unprotected, your firearm will take a lot of work to keep rust at bay. Applying oil can help somewhat, but it requires frequent reapplication. Blueing, on the other hand, is attractive like Cerakote but not nearly as effective. Other options don't hold up well to scratching or chemicals.
Cerakote features a ceramic base and the baking process makes it incredibly hard and able to withstand abrasions and prevent rust. When it comes to corrosive conditions like salt water, Cerakote is the most protective finish available. Finally, Cerakote is available in many colors, including camouflage, that compliment Saiga rifles or shotguns.
Cerakote for Saiga Accessories & Pricing You can also have optics and other Saiga accessories matched to your firearm or refinished for a two-tone effect. For the Cerakote H-Series, which is the most durable of the two types of coating available, expect to pay around $300 for your rifle in one color, without the stock. A polymer stock usually costs about $100 extra. Magazines and mounts usually cost under $15 for one color and you'll need to get a separate quote for other accessories. Most companies that offer Cerakote coatings also charge fees if you want them to disassemble or reassemble your Saiga, so you can save money by doing this yourself. Legion USA offers very competitive pricing on Cerakote finish, please refer to gunsmithing page for more information.
Tips for Cleaning and Maintaining Your AK Saiga
08/22/2012
AK Saiga M 7.62x39mm
While the Saiga is one of the most durable shotguns or rifles for sale today, it's still important to maintain and care for your weapon to further extend its longevity. The first step to cleaning your weapon is stripping it. You'll also need some supplies, including:
Birchwood Casey Gun Scrubber spray
Sheath oil spray
Hoppes #9 powder solvent
Nylon toothbrush
Stiff wire brush
Teflon gel or synthetic motor oil, if necessary
Cotton patches
Blue shop towels
90-degree angle pick
Borelight
Spray solvents like the Birchwood Casey Gun Scrubber are very effective at cleaning firearms and may be used on virtually all internal and external parts. Hoppes #9 solvent is also a popular choice that works well. Start by using the scrubber to spray all internal parts of your Saiga, including the receiver, trigger and the weapon's hammer. Carefully go over each part of the gun with the toothbrush and then spray again, wiping down all parts with shop cloth. Allow to dry
Now, look over the rails of your Saiga and make sure the bolt carrier can slide easily and there is no debris, which can hurt cycling. If necessary, add just a small amount of teflon gel. Remember, avoid WD-40 in your Saiga 12 or any other model, as it quickly attracts powder residue.

Next, clean the barrel with solvent, using the brush and patches of cotton until it looks good. The barrel should always be cleaned last because residue from the gun's gas port can get into the barrel, which would just be a waste of your time. Use a cloth well saturated with solvent to go over the barrel threads. Brush them with a thread protector and apply a light coating of oil before you re-thread any muzzle attachment.
Next is the bolt carrier, which should be cleaned with your scrubber spray and a wire brush that's saturated with Hoppes #9. This should effectively remove any build-up. Expect the gas piston of your Saiga to be the toughest to clean with a lot of build-up. You'll need to go over it a couple of times and use a lot of solvent, but it won't look like new again. You want the edges to be free of residue and debris. The bolt will also need extra work to check that the extractors are functioning properly. While you're at it, look at the tip of your firing pin for damage and chipping.
Finally, go over the return spring with the scrubber spray and use shop cloths to wipe it off. You don't need to remove it for this. Go over the seating groove in the receiver. When all of the internal parts of your Saiga are clean, give each a final coating of light oil. Some people choose to give everything a light coating of Birchwood Casey and then wipe it clean.
While it's a bit time consuming at first, cleaning your Saiga will ensure it functions properly for a lifetime. Once you've done it a few times it gets easy. Whether you own a Saiga 12 or a rifle, you'll find cleaning your gun regularly is both enjoyable and simple to master.